Due to the energy transition, there are fundamental changes in the power grid. The share of renewable energies is to increase continuously, while at the same time grid stability must be guaranteed at all times. Atypical grid utilization can make a contribution to mastering this challenge.

With today's article, we are starting a new series of blog articles and will highlight various aspects of the topic of electricity. We will start today with the blog article "Atypical grid usage and individual grid charges".

We will deal with the following topics:
Atypical grid usage and individual grid charges

Retroactive calculation and load profile forecasting

Analysis of the load profile: disaggregation





What is atypical grid usage?

Grid operators reward customers for production behavior that supports the grid and, for example, mitigates load peaks during periods of heavy use. These are referred to as peak load time windows.

Peak load time windows are forecast periods with the highest network load. This applies to periods when, for example, a particularly large number of consumers require electricity at the same time. For this purpose, the German Federal Network Agency specifies a uniform calculation method that network operators use to adjust the peak load time windows on an annual basis. Only the working days Monday to Friday are taken into account. Weekends, public holidays and bridge days are considered off-peak.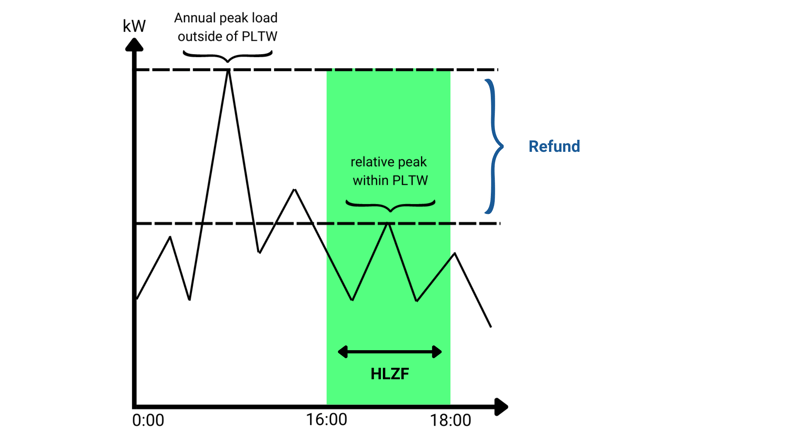 Two prerequisites are necessary to qualify for atypical network usage. The company's peak load within all high-load time windows must be reduced by at least 100 kW compared to the maximum load outside the peak load time windows. In addition, a percentage threshold must be exceeded inside and outside the peak load time windows by the load reduction. If companies shift their own maximum loads so that they are outside the peak load time windows and meet the conditions, the network operators can reward this network-serving behavior with individual network charges and only the peak load within the high-load time windows is billed.

The goal of atypical grid usage is thus to ensure that the grid is relieved of load within the peak load time windows. This grid-serving consumption is can be rewarded by lowering the grid charges to be paid.
What is the grid charge?

The grid charge is part of the electricity price. It is the charge incurred by all users of the supply network and must be paid to the network operator. The charges are calculated regardless of distance and provide access to the electricity distribution system and transport of electricity. It is regulated and published transparently on the Internet by the network operator.

If an end consumer uses the grid particularly intensively or, like atypical grid users, has the highest annual load during low-load periods, an individual grid charge can be agreed.
Is there an atypical network use? Data analyses provide the answer!

By precisely analyzing the load profiles over time, questions can be answered such as: When were the load peaks? What is the annual peak load? What was the peak load per season? When does the load drop in the evening? With the help of historical network usage data, the load profile for the current year can be forecast. In addition, atypical grid usage can be calculated based on the current peak load time windows. If the highest electricity consumption is outside the peak load time windows, atypical grid usage exists and can thus be remunerated via individual grid charges. Geospin is currently developing a service for precisely this data analysis, which should already be in use in the coming year. If you are interested, please contact our team.




Sources:
https://www.bundesnetzagentur.de/DE/Beschlusskammern/BK08/BK8_06_Netzentgelte/BK8_NetzE.html
https://www.bundesnetzagentur.de/DE/Beschlusskammern/BK04/BK4_71_NetzE/BK4_71_Ind_NetzE_Strom/BK4_Ind_NetzEntg_Strom.html