We proudly present our portal in a new look: fresh design, optimized usability - the same functionality you are used to. Join us on the way from the old to the new frontend design!
Good usability is probably the most important feature of a virtual assistant. In order to offer the best possible User Experience, it is best to ask the users themselves. And that is exactly what we did.
Over the past nine months, we have collected valuable feedback from users about their experiences and challenges with our portal. We conducted usability tests with test users from various industries to test the usability of our portal. We observed how easy or difficult it was to work through the tasks and where there were still difficulties. By talking to the users, we wanted to find out which changes could make the portal even more intuitive to use. The results of the tests and frequent feedback have been incorporated into our redesigns. Some points came up repeatedly and it became obvious that there was a need for action.
With the experience gained, we commissioned UX/UI designer Miriam Zimmermann. Here she gives us some insights on how she proceeded when developing the new design:
"For the redesign I could support with my expertise as a user experience designer in three steps. Geospin introduced me to their personas and use cases at the beginning of our collaboration so that I could better understand the users. This information helped me to create the basis for a user-centered design. Afterwards, I investigated the product myself in a first user experience analysis and discovered smaller but also bigger weaknesses. To improve these weaknesses, I developed first concepts. Some of them in quick wins that could be implemented immediately, others in larger solution approaches. In the next step, I created design proposals based on the newly created corporate design. The design proposals should not only be in line with the current trend, but above all support the user in all scenarios and thus ensure smooth usability. Finally, there were some adjustments to new requirements and preparations for future visions of the product. Everything was done in close cooperation with the Geospin team to ensure the feasibility of my suggestions."


Here is a small example of how we optimized both the design and usability:
So far, users could drag and drop the different data layers (such as age group, supermarkets, cafes, crime data, etc.) into the selection box on the left.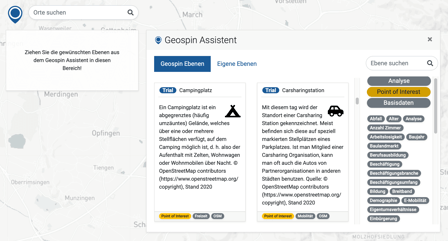 This should now be replaced with an intuitive option: a button that adds the data layer to the selection.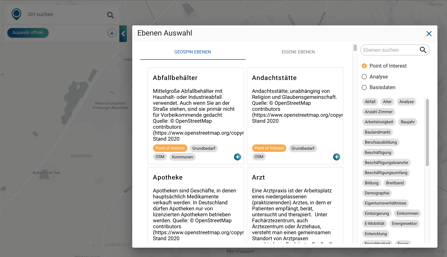 Are you curious about what other changes we have implemented?
Register today and experience the ease of use and the new design!