Geospin turned 5 years old in March, but because of lockdown we had to forego a joint celebration. All the more we were happy to be able to make up for this celebration now!
Together we went to the climbing park during the day, where everyone was allowed to grow beyond personal limits. It was an exciting day for everyone, as some of the team members had not yet met in "real life" due to them working in home office. It gave them a chance to get to know their colleagues in person.
After meeting (and getting tested) in the office, we set off by bike and car to the forest ropes course in Freiburg. Under the guidance of two very friendly employees, we were able to demonstrate in a fun team-building game how well communication works within the team and that cooperation is possible - especially in person.
Afterwards, we were asked to put on our safety harnesses and helmets and split up in two groups to tackle the first high ropes element. Each participant was secured individually by a trainer. This allowed us to consider the individual (fear) level of each team member so that everyone had a good time. From jumping on a trapeze, to a controlled fall from a height of 8m (with some of us headfirst), to a balancing act in pairs - there were plenty of thrills to be had.
To cool down, we all met for cold drinks in the office and exchanged ideas about what we had just experienced with cold drinks. We ended the day together in a restaurant with great food and conversation.
5 years after the beginning, there are also some things we can look back on. Let's go back to the beginning: how did we get to where we are today? A journey through time: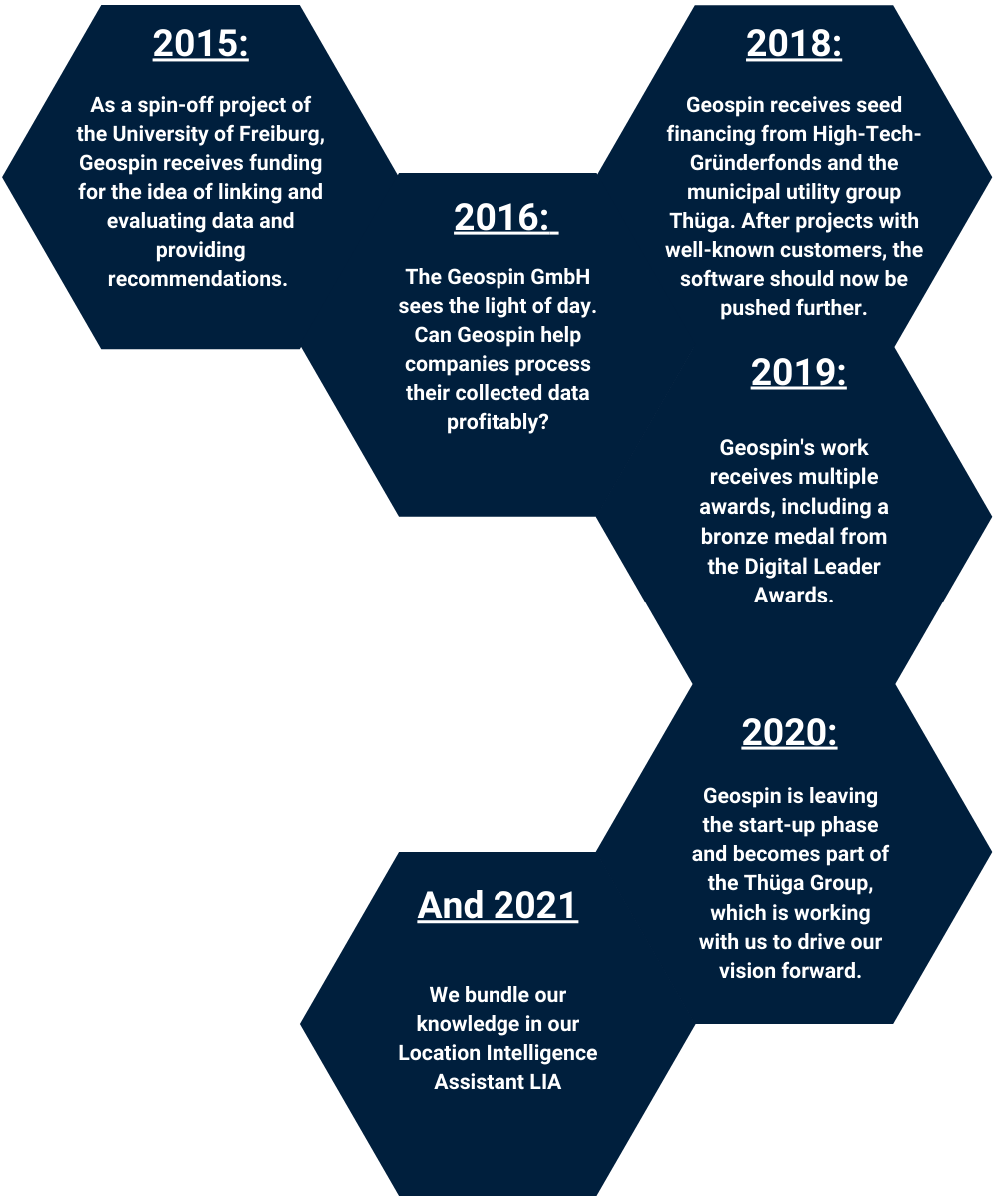 2015:"Geospin", a spin-off project of the University of Freiburg receives funding from the Federal Ministry for Economic Affairs and Energy, the European Social Fund and the European Union. The founders have conducted research in the field of smart cities for many years and have developed specialized geographic machine learning methods.
The idea: data from various sources should be linked and lead to recommendations for sales improving actions using statistical analysis.
2016: Geospin GmbH sees the light of day and makes its first public appearance.
Can Geospin help companies process their collected data to generate profits?
2018: Geospin continues to gain momentum and receives seed funding from High-Tech-Gründerfonds and the municipal utility group Thüga. Following projects with well-known customers (such as Volkswagen, Siemens and Deutsche Bahn), the software is now to be pushed further.
2019: Geospin's work receives multiple awards, including the bronze medal of the Digital Leader Awards. Geospin, with the assistance of Thüga, develops an analysis for potential charging station locations by developing a self-learning algorithm.
2020: Geospin leaves the start-up phase and becomes part of the Thüga Group, together we drive our vision forward.
2021: We bundle our know-how into our location intelligence assistant LIA.
Now is also the time for founders and employees to look back.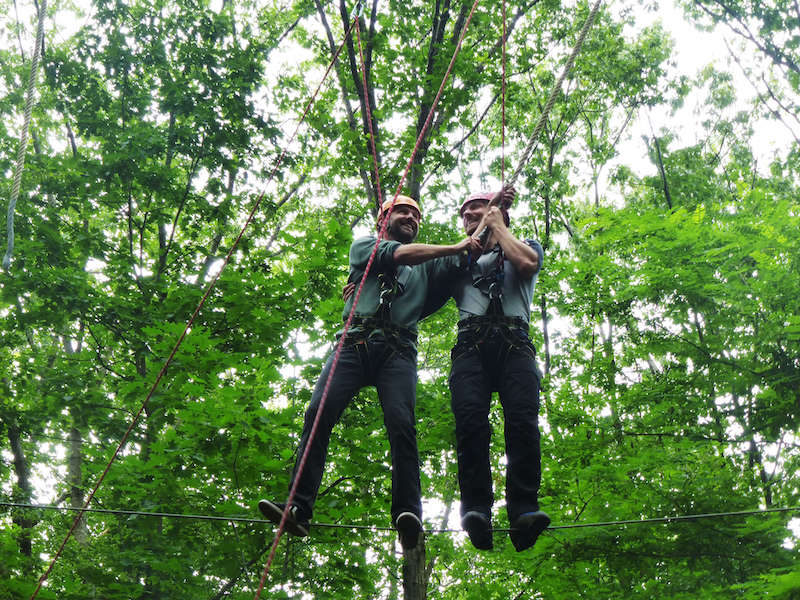 Konstantin Schmid (left, in the climbing garden), who has been with the team since January 2018, describes Geospin as follows:
"For me, the theme at Geospin is change and development: from the room in the university to the first office, to our large office with many colleagues, via consulting and Geode to product business, constant adaptation to needs with a growing team and a constant core team. And all of this without missing out on the joy."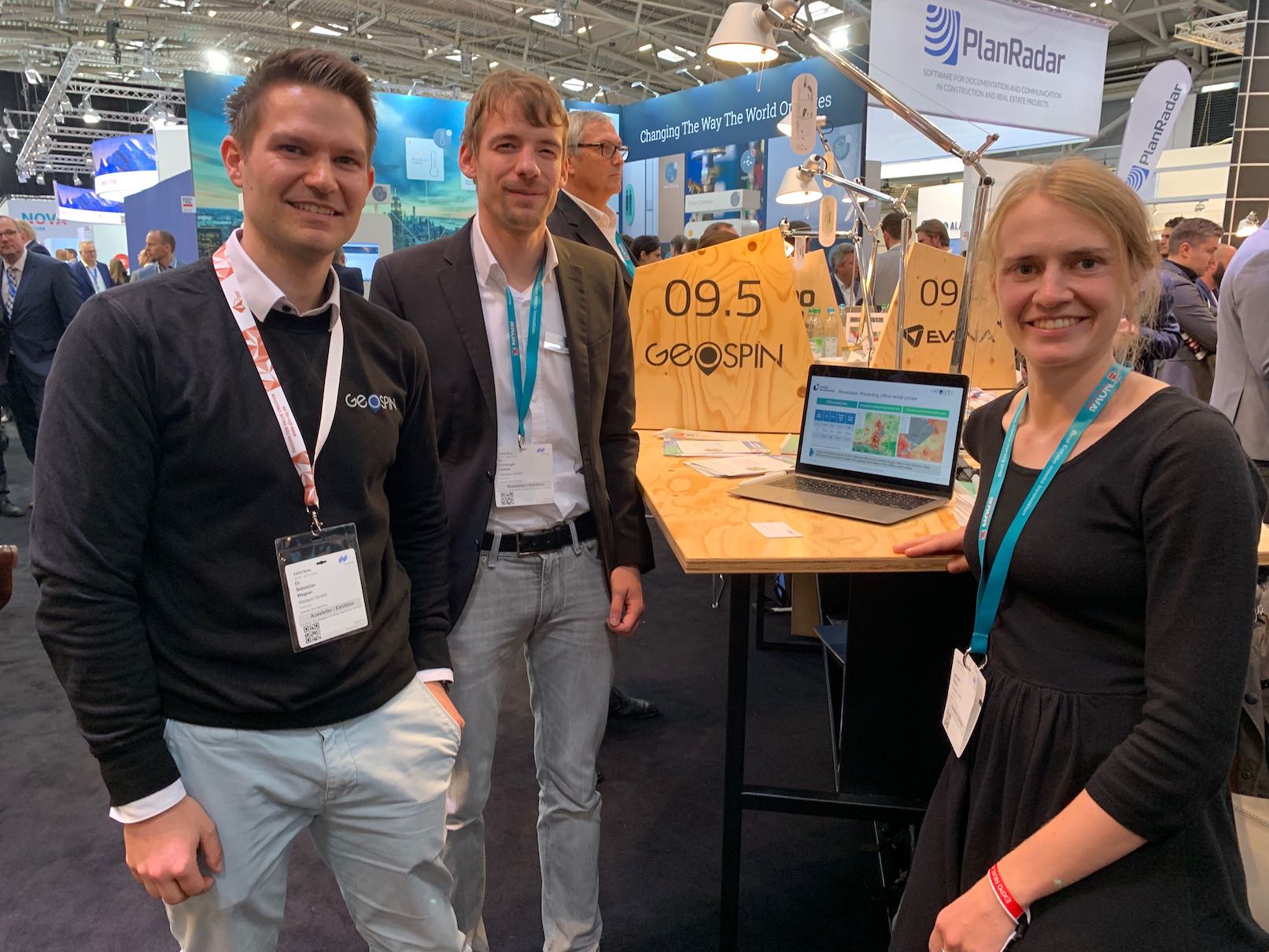 Margret Rattay (right, EXPO REAL 2019), who works in the marketing and sales team since March 2019, says:
"For me it is totally exciting to witness and be part of how a young company grows, questions itself and constantly develops. It's really fun to work in such a nice, dynamic team!"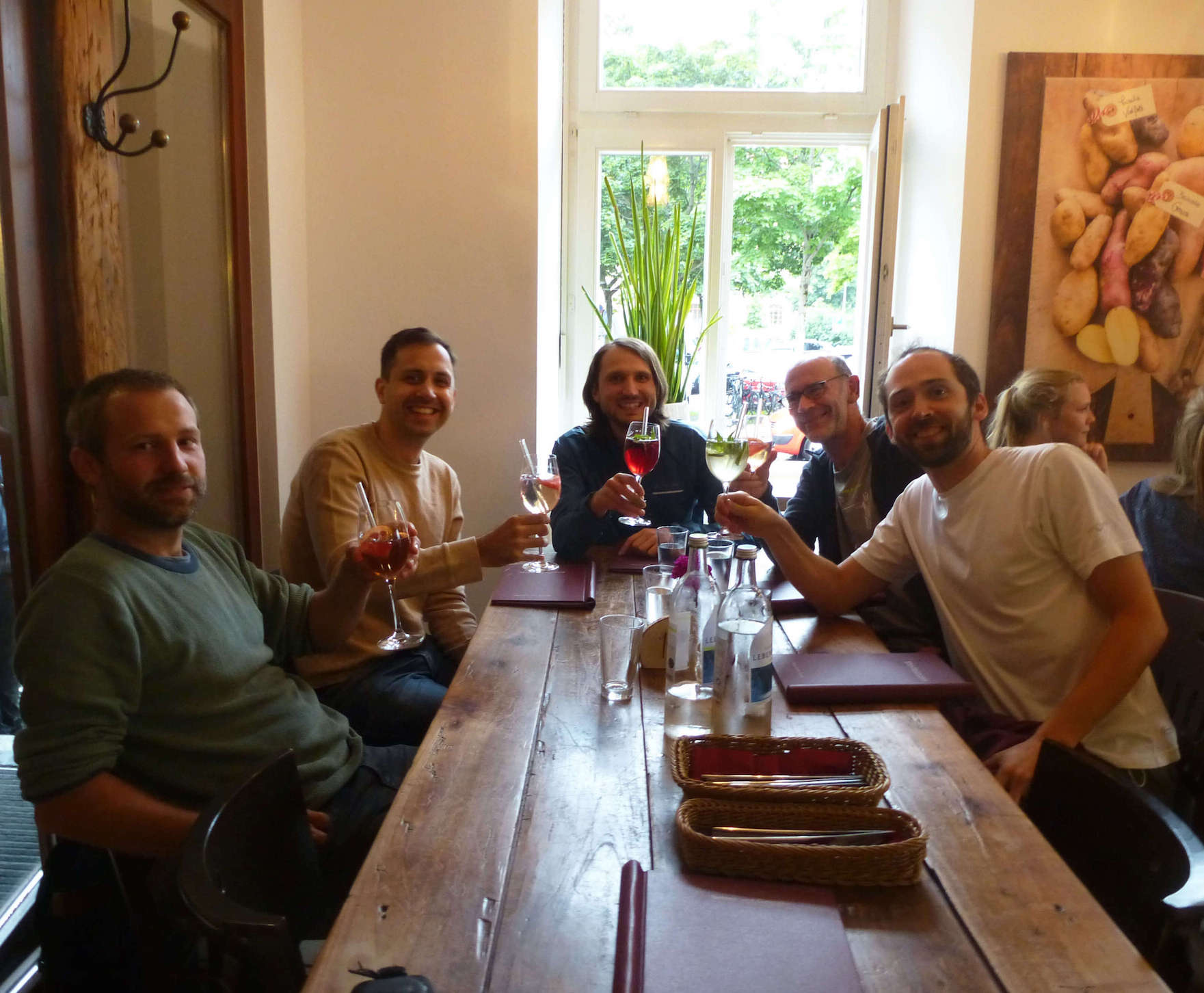 Florian Wolpert (second from right, summer celeration 2021), whose start at Geospin was during the pandemic, also has his say:
"Working at Geospin has significantly broadened my technological horizons and thinking outside the "box" is daily business here. My first 6 months were, "thanks" to Corona, characterized by working in the home office and it was therefore also more difficult to get to know the new colleagues better. Nevertheless, I experienced a lot of motivating appreciation and I really enjoy my work."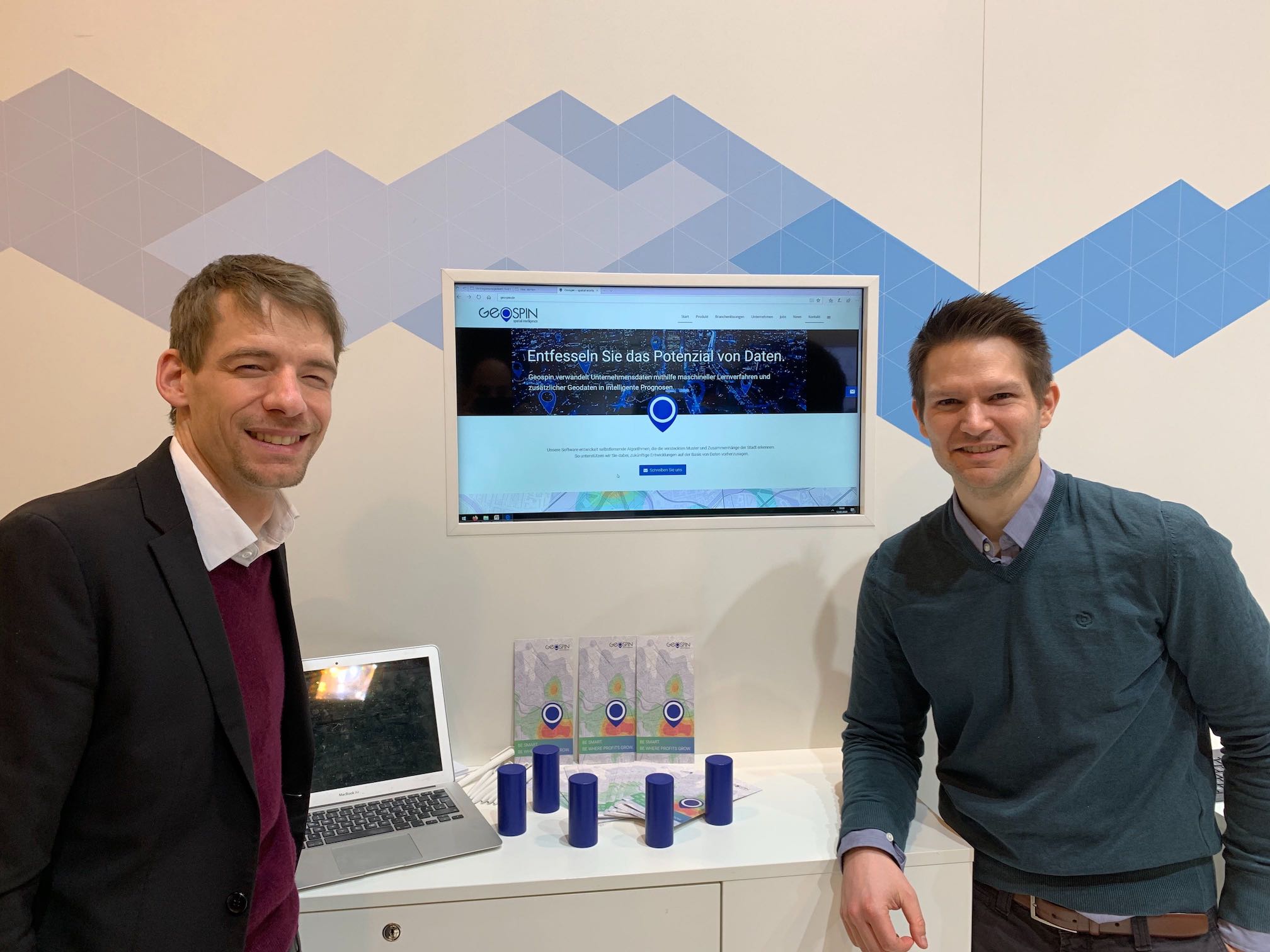 Co-Founder and CEO Sebastian Wagner (right, E-World 2019):
"I am very happy to have taken the step of founding the company together and would do it again. One highlight was working with our first customer, who was not only very satisfied, but showed us that our analyses deliver enormous added value. I am very grateful to work with my colleagues on Geospin day by day and I wish for the future that we continue to get the best out of data for our customers and partners together."