Forecasting the value development of real estate and thus also the rental and purchase prices is a very complex topic. It is both time-consuming and cost-intensive and does not always deliver the best possible results. However, it can be facilitated by machine learning, as large amounts of data can be quickly collected and objectively processed. In this article, we take a closer look at the benefits of machine learning for the real estate industry.
But what actually is machine learning?


Machine learning is a subset of artificial intelligence. Artificial intelligence replicates or simulates human intelligence with the goal of improving and automating courses of action.
An artificially created system learns from examples and can apply what it has learned independently from a certain point on. Algorithms and a statistical model are used for this purpose, which not only simply learns examples by heart, but also independently recognizes patterns and regularities in the learned data. In this way, the system will be able to assess even unknown data, since it has learned to recognize patterns and build on them. Thus, even unknown terrain can be analyzed and a forecast can be made.

In short, the "artificial" generation of knowledge from experience, which can then be applied independently everywhere.



What can machine learning be used for in the real estate industry?

Many processes in the real estate industry are very time consuming and costly. Information has to be gathered, compared and evaluated. The difficulties here are: Is all the necessary information available? Can the data be evaluated objectively? And how much time is needed to sift through this flood of data?

This is where machine learning is ideally suited to help with these challenges. AI systems process huge amounts of data in a fraction of the time it would take a human counterpart. The error rate is lower and results become more accurate as the system keeps learning. In addition, once a system has learned to make forecasts, it can be applied to other local conditions at will. This also makes it possible to forecast value developments for real estate.

AI is already being used in the real estate industry, for example in the collection and sorting of applicant data based on occupation, income, marital status, etc., but also in the use of smart electricity meters, which automatically forward the collected data to the generator and allow customers to track their energy consumption via app.




GEOSPIN and Machine Learning: The LB ImmoWert example

The mentioned challenges of situation assessments and their subjectivity due to inaccessible information or insufficiently trained personnel, call for a solution.
So what does Geospin offer to the real estate sector?
To address these challenges, Geospin uses technology that combines classic machine learning approaches and market data from thousands of real estate locations spanning more than five years.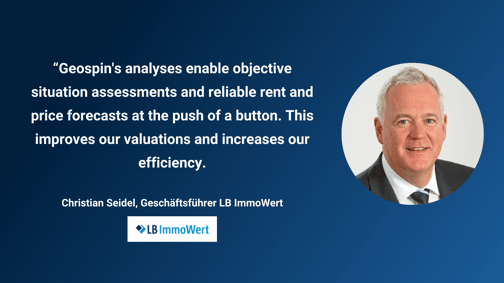 Let's take a look at a case study Geospin did with LB ImmoWert on this. For this purpose Geospin has developed an independent and objective analysis, which provides location evaluations and investment decisions in a cost- and time-saving way.
Complex structures are learned by LIA by providing data for commercial and residential properties, property characteristics as well as over 800 location parameters.
Thus, a property valuation is provided at the push of a button and with the help of LIA, valuation is possible even in areas without empirical values and market data.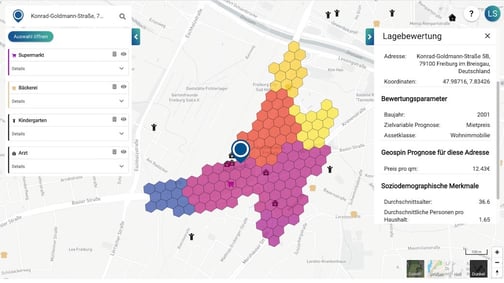 Location valuation scenario as a new feature
new location assessment scenario, which will be available from September, provides precise information about the current status at a selected address. After entering the address, filters can be applied for rental or purchase prices, or whether the search is for a residential, office or retail property.
As a result, the predicted prices are output that are within 10 minutes walking distance of the specified address.




In summary: The advantages of Geospin's location evaluation for the real estate industry

So, how can we summarize the advantages of our location evaluation for the real estate industry?
Our portal offers a definite resource-saving solution, as time and costs are kept low. The immensely large amounts of data do not pose a problem and an objective system prevents subjectively influenced results. In this way, you reach your goal faster and more precisely, with less effort and avoid errors.


Have we aroused your interest?
Feel free to register for a free trial!